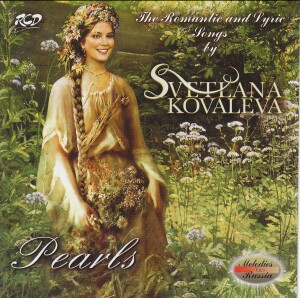 ID:
RCD14020 (EAN: 4600383140209) |
1 CD
|
DDD Released in: 2009
LABEL:
Collection:
Subcollection:
Interprets:

KARABETOV, Alexander (piano) | KOVALENKO, Vyacheslav | KOVALEVA, Svetlana | MOLODTSOVA, Ekaterina (singer) | MOLODTSOVA, Oksana (singer)

Other info:


The words of the songs in English and Russian are inside the booklet.

Lyrics by Svetlana Kovaleva (1-14)
Singers: Oksana Molodtsova (1-8, 10-14), People's Artist of Russia Ekaterina Molodtsova (9)
Music and arrangements: Z. Parkhomchuk (1, 2, 3, 13) / V. Kovalenko - drummer and multi-instrumentalist (4) / A. Karabetov - piano (5, 6, 8, 10, 12) / V. Anikienko - voice, guitar (7) / A. Moroz - voice (11) / V. Kobyzev -(14)

The music writers and arrangements: Z. Parkhomchuk, V. Kovalenko, A. Karabetov, V. Anikienko, A. Moroz and V. Kobyzev sensitively convey atmosphere of Svetlana Kovaleva's lyrics, while the accompanying band organically combines jazz and folk components of the "light music" genere.

Zoya Parkhomchuk (Zoya Garina) is a performer and author of romance, blues, and chanson songs. She cooperates with many composers of Belarus and Russia as a lyrics writer.

Vyacheslav Kovalenko (Slava Koval) is a professional drummer and multi-instrumentalist, musicaliy oriented at jazz rock. For a long time he performed with the well-known jazz band headed by G. A. Garanian as keyboards player; he is known as an arranger and music-writer for pop artistEs of Belarus.

Alexander Karabetov is a professional pianist working both in classics and in jazz; he also writes and arrangers music for pop orchestras and jazz bands.

Viktor Anikienko is a singer and guitarist, a prize winner of Russian "Pesnya-89" TV competition. In the 1980's, he was soloist of the pop group Plamya, and then of the pop group Samotsvety. He is an author and performer of such popular songs as: Boat Of Life, Five White Tulips, Demonstration Landing, The Cross, etc..., known by his solo concert programs "Russia Needs You!", "Romance Singing To The Guitar" and "I'll Get Off At A Far-Away Station" (a retro program).

Andrey Moroz, composer, singer, and poet, has worked with the Philharmonics of Kursk and Tula as a musician of Elektron, The Savoyards and the Russichi pop groups. He has won prizes and diplomas at all-Russian and all-Union competitions; he is also an author of popular songs performed by himself or by E. Belousov (The Night, It's JustThe Way I Am) and many other popular performers. and many other popular performers. He has released four solo albums on CDs, and wrote soundtracks to many audio books.

Valery Kobyzev is an author of jazz for guitar, and contributes as guitarist to recording of albums of various musical styles such as jazz, blues and pop music.

Recording: Moscow, 2008
Studio OOO "MihajloV" Ltd. supported by the Academic Music Conservatory College Moscow
Sound engineer: V. Reznikov
| | | | |
| --- | --- | --- | --- |
| 1. | A Defiant One | 3:06 | |
| 2. | I've No Gypsy Blood In Me | 3:16 | |
| 3. | Farewell Forever, My Sunshine | 2:57 | |
| 4. | They Foretold Me Love | 2:23 | |
| 5. | Waltz | 3:09 | |
| 6. | The Veil Day | 2:48 | |
| 7. | Let Me See Enough Of You | 4:07 | |
| 8. | Winters In Russia | 2:31 | |
| 9. | Indian Summer | 4:07 | |
| 10. | Little River | 3:22 | |
| 11. | Be On The Loose, My Soul | 4:07 | |
| 12. | Yuletide | 2:24 | |
| 13. | When We Quarreled | 4:01 | |
| 14. | Call On Me | 3:04 | |
This CD presents Russian lyrical songs to lyrics by poetess Svetlana Kovaleva. All the pieces are united by one common theme: it is confessions of a woman on the thermal theme of love, and often unshared love, deceived love, bitter love. The entire gamut of emotions, with love languor, and biting sorrow of departure, and desperate girlish pride, and timid hope, is tinted with an inimitable Russian color. This is how the author describes her works: "The fantastic, picturesque landscape of Moscow Land where I lived as a child, Russian folk fairytales, songs, ditties, sayings, and stories told by my grannies - persons of exceptional warm-heartedness, kindness, and great native wisdom - became the core of the songs of this album."

For Svetlana Kovaleva, creating poetry is a natural process coming from the heart. Her readers highly value the sincerity and genuineness of her verses, comparing their purity and clarity to spring water. Her book titled Lyrics was released in 2002 by A. Bogatykh and E. Rakitskaya Publishing Partnership, her next books of poems are being prepared for publication, and songs to her lyrics have been long performed on stage. And although lyrical romance song is less demanded by today's audience than other, trendier song genres, Svetlana Kovaleva is inevitably loyal to it; in her poetry, she continues significant Russian traditions, saving this culture stratum from withering.

The musical stylistics of salon romance song, songs of today's Russian village, and Gypsy romance are impressively rendered in talented arrangements where apart from classical instruments (piano, violin, cello) folk instruments are used (balalaika, bayan, zhaleika pipe, acoustic guitar, accordion, tambourines, and hand bells), as well as percussion and electric instruments. The use of synthesizer in delivering pictures of Russian nature superbly conveys the heroine's state of mind. Gypsy motives in some of the songs are meaningful too; it is a favorite theme of Russian urban romance song that has been developing for two centuries and has become its integral part.

The folksy performing manner of the two remarkable singers, Ekaterina and Oksana Molodtsova, adds a genuinely Russian accent to the songs.
Singer Ekaterina Molodtsova, People's Artist of Russia, successor to M. N. Mordasova, soloist of Voronezh State Academic Russian Folk Choir, professor of the Rostropoviches School of Music in Voronezh, constantly concertizes with solo programs. Although E. Molodtsova is represented with just one song on this disk, a professional touch can be heard from the very first sounds of the song. Accompanied by two bayans and a zhaleika pipe, the natural folk attitude of her voice is heard especially clearly, and its softness and sincere cordiality subtly convey the light sadness of the lyrical song Indian Summer. Ekaterina Molodtsova's gift was inherited by her daughter, who also became a Russian folk song performer. Oksana was born in the city of Voronezh; for many years, she was soloist of Zhelanushka, a folk ensemble of the Mitrofan Pyatnitsky Museum in Voronezh Oblast, and later taught at the A. Schnittke State Institute of Music in Moscow. Oksana Molodtsova is the 1st prize winner of the "Russia's Voices" All-Russian TV and Radio Competition and 2nd prize winner of an international competition in Italy. She is touring much as a soloist of leading orchestras of Russian folk instruments. Oksana Molodtsova has a brilliant, strong, and unique voice. In her art, the singer absolutely naturally combines high professionalism and a genuinely Russian folk singing manner. Her palette includes intimate cordiality of Russian romances, and expanse of slow folk songs, and jingly ardor of ditties. In the offered selection of present-day Russian romance and folk songs, Ms. Molodtsova appears as a powerful heiress to the folklore performing traditions.