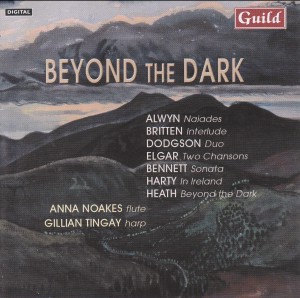 ID:
GMCD7202 (EAN: 795754720228) |
1 CD
|
DDD Publi: 2000
LABEL:
Subcollection:
Compositeurs:

ALWYN, William | BENNETT, Richard Rodney | BRITTEN, Benjamin | DODGSON, Stephen | ELGAR, Edward | HARTY, Sir Herbert Hamilton | HEATH, Dave

Interprètes:

NOAKES, Anna (flute) | TINGAY, Gillian (harp)

Pour plus amples dtails:


Recorded: Potton Hall, Suffolk 1 & 2 March 2000
ALWYN, William (1905-1985)
1.
Naiades - fantasy sonata for flute & harp
12:33

BRITTEN, Benjamin (1913-1976)
2.
Interlude - harp solo from 'The Ceremony of Carols'
4:36

DODGSON, Stephen (b. 1924)
Duo for flute & harp in four movements
3.
Molto moderato
2:05

4.
Allegro ma non tanto
2:22

5.
Poco lento
2:44

6.
Allegro vivace
2:28

ELGAR, Edward (1857-1934)
7.
Chanson de Matin
3:24

8.
Chanson de Nuit
3:44

BENNETT, Richard Rodney (b. 1936)
Sonata for solo flute
9.
Poco lento - Allegro con grazia
2:29

10.
Lento - allegro
3:20

HEATH, Dave (b. 1956)
11.
Beyond the Dark for flute & harp
14:02

Traditional English
12.
Greensleeves
2:46

HARTY, Sir Herbert Hamilton (1879-1941)
13.
In Ireland - Fantasy for flute & harp
6:57
William ALWYN (1905-1985) Naiades, Fantasy-Sonata for flute and harp
Born in Northampton, Alwyn was educated at the Royal Academy of Music and later taught there. He was at one time principal flautist of the London Symphony Orchestra, as well as a distinguished linguist, poet and artist. His wide range of compositions includes five symphonies, two operas, several concertos and string quartets and over 60 film scores, most notably for Odd Man Out, Dear Victory and Fires Were Started.
Naiades, written in 1971 and dedicated to Marisa Robles and Christopher Hyde-Smith, was intended as a virtuoso work to exploit the technical resources of both instruments to the full, and Alwyn believed in an emphasis on precise workmanship. His studio overlooked the river Blyth, and he wrote that to wander by its marshy tidal waters was almost to hear the Naiades - the water nymphs of Greek mythology - sporting in the shallows. A beautiful, slow and extended atmospheric passage, evocative of mist over water, leads to a dramatic and seductive waltz which slows and pauses as if for the Naiades' rest and contemplation and then accelerates into a fast and exciting conclusion.

Sir Herbert HAMILTON-HARTY (1879 - 1941)In Ireland
Born in Co. Down in Northern Ireland, Hamilton-Harty was by the age of twelve an organist, soon playing in both Belfast and Dublin, and on moving to London when he was twenty one he qsuickly became a sought-after pianoforte accompanist and conductor. Apart from his compositions, he is also remembered for the years from 1920 to 1933 when he conducted the Hallé Orchestra, winning great acclaim for introducing many new works and composers to English audiences: he gave the first performances in England of Mahler's 9th Symphony, Shostakovich's 1st and Walton's 1st.
His own compositions included choral works, concertos and the Irish Symphony, recalling, with their many snatches of Irish folk music, his affection for his homeland, as does this fantasy, In Ireland: the original score is headed, "In a Dublin street at dusk two wandering street musicians are playing." Harp arpeggios introduce a tuneful passage on the flute which heralds the allegro moderato section, strongly reminiscent of a vigorous Irish dance, which is in turn soon followed by a lively Irish reel.. Written in 1918 for flute and piano it was arranged by Harty in 1935 for flute, harp and orchestra.

Stephen DODGSON (1924 - )Duo for Flute and Harp
Molto moderatoAllegro ma non tantoPoco lentoAllegro vivace
Stephen Dodgson studied composition and later taught at the Royal College of Music. He has written a great deal of charming instrumental music, never anything but skilful, civilised and thoughtful: it always presents a considerable technical challenge to the performer, yet at the same time is as rewarding to play as to hear.
The Duo was written in 1958, and given its first performance by the harpist Maria Korchinska, for whom it was written, and the flautist Geoffrey Gilbert. It is in four movements, and the composer has written this of it:
The harp has the more elaborate part, specially in the busy motion of the second and fourth movements, though each of these has quieter, more atmospheric moments. There interruptions are occasioned chiefly by the insistent reappearance of a small motif which is an integral part of the musical idea in the first prelude-like movement. This motif is associated principally with the harp. The first two movements both end with it. The slow third movement, which is a continuously developing melody for the flute, is the most independent of the four, and the only one where the harp is allotted a more obviously accompaniment rôle.

Dave HEATH (1956 -)Beyond the Dark
Dave Heath was born in Manchester, and began to compose in 1978. His early works, Out of the Cool, Coltrane, Rumania and Fight the Lion, are rhythmically and harmonically based on modern jazz, while his later works, On Fire, Recall, Cry from the Wild and Alone at the Frontier incorporate funk elements, avant-garde and minimalist techniques.
Dave and Gillian formed a flute and harp duo when they both lived in Wimbledon and Dave was a pupil at the school where Gillian's father taught classics.
He has written this of the piece:
Beyond the Dark is in one movement, three section form, fast-slow-fast, and is influenced not only by the modern jazz harmony of Herbie Hancock and Chick Corea, but also by the sounds of the Japanese koto and shakahachi which give the piece an exotic flavour. As in all my music, the tempi, dynamics, and phrasing are suggestions only, and as you get into the piece, make it your own. Don't be limited by what's written down - feel free to experiment.
Heath's music is performed by leading international musicians including James Galway, Nigel Kennedy, Sir Neville Marriner, Edo de Waart, Leanard Slatkin; the Philharmonia Orchestra, the
B.T. Scottish Ensemble, the Minnesota Symphony Orchestra and the Kansas City Symphony Orchestra.

Sir Edward ELGAR (1857 - 1934)Chanson de matinChanson de nuit
These pieces were written in 1897 at a time when Elgar was achieving prominence with such works as Lux Christi (1896), Imperial March (1897), for Queen Victoria's jubilee, and Caractacus (1898). But Elgar perhaps felt that he was not receiving the financial rewards to match his fame, and so launched some intimate light pieces, such as Salut d'amour, to please the biggest audience his art could reach: they have been in the popular repertoire ever since.

TRADITIONAL (perhaps Henry VIII)Greensleeves
This tune, twice mentioned in Shakespeare's Merry Wives of Windsor, is first referred to in 1580 as 'a new Northern Ditty' in the Register of the Stationers' Company, though there is some evidence for an earlier date. Many ballads were composed for it. Again in the Civil War Green Sleeves became the party tune of the Cavaliers who set many political ballads to it. In this arrangement by Gillian Tingay the melody is given a fresh flavour by the warm, rich chords and glittering glissandi of the harp, and the limpid purity of the flute on which the melody seems to float as if from no mortal source.
Benjamin BRITTEN (1913 - 1976)Interlude from the Ceremony of Carols
In 1942 Benjamin Britten determined to return to Britain from America, whither he had gone in 1939 with W.H.Auden, but had to wait six months to secure a return passage. The voyage in a tramp steamer took a month, but in that month he composed the Ceremony of Carols. Written for treble voices with harp accompaniment, around eight medieval carols and other poems, it is in the tradition of English choral music, with Britten's characteristically felicitous colouring and radiant tones, typically 'music for amateurs and children that challenges but does not patronise them.' It was given its first performance in December 1942 and has been enormously popular with school and amateur choirs ever since. Towards the end of the ceremony there is an interlude when the choir is allowed a rest while the harp is given a splendid chance to show off its particular colouring.

Sir Richard Rodney BENNETT (1936 -)Sonatina for solo fluteBennett studied at the Royal Academy of Music and in Paris under Boulez 1957-9. An exponent of 12-note music he has been one of the most versatile of recent of British composers, writing symphonies, operas, ballets and for voice, piano and various avant garde chamber ensembles. He has been a life-long enthusiast for jazz, supporting himself while a student as a jazz pianist, and has since become as skilled a jazz composer as performer. Most recently his fame rests on his film scores, amongst which were Far From the Madding Crowd, Murder on the Orient Express, Equus and Four Weddings and a Funeral.
The Sonatina is an early work of 1954, in four movements, slow, fast, slow, fast, grouped in two sections. The first movement is in typical avant garde style, the second in binary form, the third languid and tuneful and the fourth a very fast gigue; in all a fascinating, effervescent miniature.